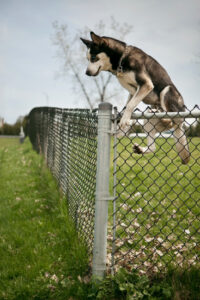 Your dog is a member of your family, so of course, you want to keep them safe when you have a backyard fence installed. Dogs create unique security risks when it comes to fencing, either by being clever escape artists or curious goofballs. Keeping these particular issues in mind can help you choose the best fence for you and your dog so your dog can stay within the boundaries of your property while you enjoy peace of mind knowing they're safe and contained.
Height
Fences meant to contain dogs, especially larger breeds, should be a minimum of 5 feet tall, with an ideal height of 6 to 8 feet. The taller you can make your fence, the better. It is important to check with local codes to find out how tall your fence can legally be before installation and planning from there. Weak jumpers, like corgis and pomeranians, can be contained by a shorter fence. Strong jumpers, such as jack russells and bull terriers, should have a fence as tall as you can legally build.
Spacing
Footholds and wide bars are a major safety hazard for dogs. Dogs can climb footholds, and they are known to get stuck in metal fencing with inappropriate bar spacing. Both of these instances can lead to major problems for both you and your dog. Whether dealing with an escape or having to have part of your fence sawed-off, these events will be traumatizing for both you and possibly your dog. Keep them safe with solid fencing options that keep them fully contained.
Underneath
A gap at your fence line is an invitation for your dog to dig its way out of your yard. Consider installation options that bury your fence as much as possible to keep your fence line secure and your dog contained. You can also make an effort to block as much of the fence line as possible with landscaping and hardscaping that blocks access to hopeful escape artists. You won't be able to block every inch of it, so have other ways of making sure there's nowhere your pup can dig their way out.
Loose Panels
Loose or missing panels in a solid fence tend to make it less solid than it should be. These are prime spots for dogs to slip out of. Do regular maintenance on your fence to check the boards and hardware for anything that is missing or degraded so that these sections of fence can be repaired. A fence is only as good as its weakest link, so it's important to keep all of the links as strong as possible.
Step-Ups
Keep the sides of your fence clear of things your dog could use a boost to get over it. Things like patio furniture, ladders, or anything else you keep in your yard should be kept as far from the fence line as possible so your dog can't use it to help themselves escape.
Latches
Missing or degraded latches will eventually give way to a curious or determined dog that wants to get out. Adding a lock or carabiner to your latches can keep your gates secure while still allowing you access to them when needed. 
Commercial Fences from Hercules Fence DC
Hercules Fence DC has been providing property owners with quality fences for over 50 years. We are well equipped to meet your needs, whether they are residential or commercial. We have extensive experience working with families and pet owners to keep the most important members of their home safe, so call us today about installing a new pet fence for your family. Contact us by giving us a call at 301-441-1600 or visiting us online. To see examples of our work, follow us on Facebook, Twitter, LinkedIn, Pinterest, and Flickr.