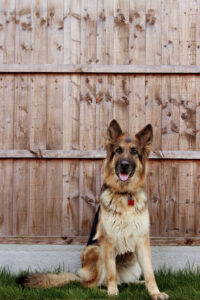 Dogs have become an integral part of many families, and that means it's important to keep them protected. One of the best ways to do this is to install a fence for your dog. There are a lot of different fencing options available, so take your time to consider some important factors that help determine which fence is best for you and your dog.
Keep Your Dog Safe
The primary role of a perimeter fence is to keep your dog safe. Install a fence for your dog to keep them from running out into the street or simply running off. It also prevents the theft of your dog by keeping people off of your property, and it keeps out other animals. Solid fencing is superior to invisible fencing because invisible fencing can fail to keep a determined dog contained, and it doesn't keep people or animals off of your property. Having a tangible barrier between your dog and the dangers outside is key to keeping them safe.
Mind the Gap
If you get a fence for your dog's safety, it's important to make sure that fence isn't a safety hazard of its own. Fencing can be a solid wall without gaps, such as wood or vinyl fencing. Other options have gaps, particularly metal fencing. The visibility offered by metal fencing is good for security but can be bad for your dog. If you choose metal fencing or any fencing with gaps, make sure those gaps are small enough to keep your dog from getting its head stuck in them. You don't want to go with larger gaps, because the dog could manage to slip between them and escape. Another issue to consider with gap fencing is the possibility of people giving your dog food or harming them in some way. The smaller your dog, the harder it is to make sure your gap fencing is safe for them.
Another gap issue is the gap created between solid fencing and the ground. This is a particular problem with fencing such as vinyl. This fencing sits on top of the ground, so if the ground is uneven, it creates gaps under the fence. Small dogs could slip through these gaps, and large dogs could dig under them and easily escape. Fencing that has ratcheting capability, such as aluminum, is set into the ground and lacks any gaps below the fencing for a more secure setup.
The Taller, The Better
When it comes to keeping your dog secure, the height of your fence matters. Consider the size of your dog and its jumping capabilities. Many residential areas don't allow fencing more than 6 feet tall, but you should go taller if you're able to and you think your dog could scale a 6-foot fenceline. A tall, solid fence can also lower the stimuli for your dog, keeping them calmer and making them less likely to attempt escape. With metal fencing, height can keep your dog safe if you add anti-climb options such as spiked tips. These are great for keeping potential intruders off of your property but they can be bad if your dog is able to jump to the top of the fence.
Installation Methods
How a fence is installed plays a part in how secure it is. As mentioned before, vinyl fencing sits on top of the ground which makes it less secure than other options. Metal fencing, on the other hand, is often installed by being set into concrete under the ground. This makes for a very solid fence that lacks gaps underneath and is almost impossible for a dog to dig its way out.
Commercial Fences from Hercules Fence DC
Hercules Fence DC has been providing property owners with quality fences for over 50 years. We are well equipped to meet your needs, whether they are residential or commercial. We have extensive experience working with families and pet owners to keep the most important members of their home safe, so call us today about installing a new pet fence for your family. Contact us by giving us a call at 301-441-1600 or visiting us online. To see examples of our work, follow us on Facebook, Twitter, LinkedIn, Pinterest, and Flickr.