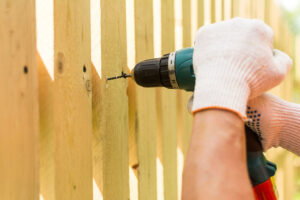 Spring is a beautiful season. The weather warms, the sun shines, and the perennials bloom. While the trees are regrowing their leaves and the bushes are waking up from their slumber, winter has left its mark on your home, your yard, and your fence. Get some fresh air as you step outside into the sunshine and perform some spring fence maintenance.
Perimeter Check
All fences, no matter the material or style, should undergo a perimeter check during maintenance. While you're cleaning you should check for loose or missing hardware and significant damage, among other issues, and make a plan for repairs. A damaged fence isn't keeping you or your family secure, so don't skip the perimeter check during your spring fence maintenance.
Wood Fence
A wood fence needs the most maintenance compared to other fences. Wood is porous and susceptible to organic growth such as mold and mildew. Spray your fence down with a 1:1 vinegar-water solution, or a 1:5 bleach-water solution to clean out this growth and keep your wood fence from rotting prematurely. Once the fence is sprayed down, hit it with a power washer to ensure a deep and thorough clean.
Vinyl Fence
Vinyl fences are low-maintenance and don't need too much doting to stay in top form. However, most vinyl fences are white and that means they show every speck of dirt. Like the wood fence, spray it down with a 1:1 vinegar-water solution or a 1:5 bleach-water solution and hit it with a power washer for a deep clean. You'll be amazed at how encrusted your fence has become over the winter months and how much better it looks once it's clean.
Metal Fence
Metal fencing is the lowest maintenance fencing you can have thanks to its stout nature and powder coated surface. You should still do a perimeter check, but cleaning is optional. Since these fences are so resilient, it's best to go with the 1:1 vinegar-water solution if you want to spiffy it up for spring, then hit it with your hose to rinse off the gunk winter left behind
Commercial Fences from Hercules Fence DC
Hercules Fence DC has been providing property owners with quality fences for over 50 years. We are well equipped to meet your needs, whether they are residential or commercial. We have extensive experience working with families and pet owners to keep the most important members of their home safe, so call us today about installing a new pet fence for your family. Contact us by giving us a call at 301-441-1600 or visiting us online. To see examples of our work, follow us on Facebook, Twitter, LinkedIn, Pinterest, and Flickr.