Those who are looking to install a fence and have done their research know this already: chain link fences and privacy fences don't serve all of the same purposes. Chain link fences are all-weather options ideal for fencing in a yard and providing an extra layer of security to your home, while privacy fences are durable ways to keep out neighbors and passersby's prying eyes. But let's say you want to combine these different desirable aspects- can it be done? Follow these tips from Hercules Fence, and you will find that it certainly can.
Adding Privacy to your Chain Link Fence
There are a couple of different ways you could go about adding a new layer of privacy to your chain link fence. While traditional chain link fences are easy to see through with the wide spacing in the wiring, you can cover this spacing in unique and curb appeal-enhancing ways.
Fence Slats are one popular method for adding some privacy to your chain link fence. These slats are typically made of bamboo or synthetic materials, and they are woven through the squares of a chain link fence to close up the gaps and create a more solid-looking barrier. You can choose natural or brightly colored fence slats, depending on your taste!
Plants at the base of your chain link fence can also help add to your privacy. Tall ornamental grasses or shrubs, planted both on the inside and outside of your fence perimeter can become both elements of your landscape and your home safety.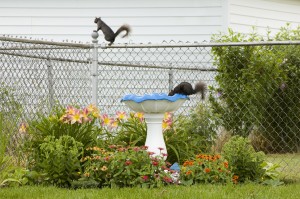 Hercules Fence has six offices ready to serve your fence needs. Whether you live as far north as Baltimore or south to Raleigh Market, Hercules has an office near you. Our experienced sales and installation staff can handle any fencing projects. And if you're looking to buy materials, Hercules can ship our product line anywhere in the world. Take a virtual stroll through our website. Check out the latest fence products along with the "Signature Projects " we're so proud of.
To have a professional, reputable fence contractor for your fence project, contact Hercules Fence of Washington D.C. at (757)316-3600 or click here today to get started on your ornamental fencing design and other fence product installations.
Check us out on Facebook, Twitter, Google+ and YouTube! Flickr, and LinkedIn!