Are you thinking about having a brand new fence installed to boost the curb appeal and value of your home? When it comes down to it, there are many options of fencing materials that can suit every homeowner's needs, but some stand out over the others in terms of their durability. Consider the kind of weather we will be in store for this upcoming season- the wind, rain, and snow can all have adverse effects on certain types of materials. But there is one fencing material that will be able to last you through the winter, and then some:  Vinyl Fencing!
Vinyl Fencing: The Ideal All-Weather Fence
If you're looking for a fence that will last for years and years (and years!) to come, look no further than at Hercules Fence's vinyl fencing options. PVC vinyl is designed to mimic that classic picket fence look, but for a much more affordable price, and a much lower maintenance level! Vinyl fencing does not melt in the heat of summer, warp due to water damage, rot due to humidity, or split in high winds. Overall, the durability of vinyl fencing is perhaps its biggest selling point; the investment you make in it will more than pay for itself over the course of the "lifetime" of your vinyl fence.
Vinyl fencing is the material to choose, especially as we head into a season of unpredictable weather conditions. Are you interested in adding a vinyl fence to your home? Call Hercules Fence today for more information.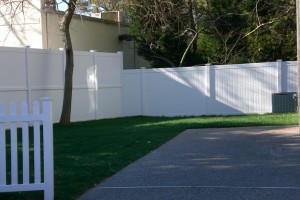 Hercules Fence has six offices ready to serve your fence needs. Whether you live as far north as Baltimore or south to Raleigh Market, Hercules has an office near you. Our experienced sales and installation staff can handle any fencing projects. And if you're looking to buy materials, Hercules can ship our product line anywhere in the world. Take a virtual stroll through our website. Check out the latest fence products along with the "Signature Projects " we're so proud of.
To have a professional, reputable fence contractor for your fence project, contact Hercules Fence of Washington D.C. at (757)316-3600 or click here today to get started on your ornamental fencing design and other fence product installations.
Check us out on Facebook, Twitter, Google+ and YouTube! Flickr, and LinkedIn!