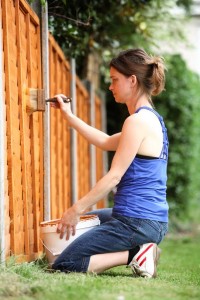 April showers might bring May flowers, but what do they do to your wooden fence? Each spring, the skies dump buckets of rain on your Washington D.C. home, as a follow up to the bricks of snow it sent your way in the winter. This can be very tough on a wooden fence. Usually, your fence has a strong coat of paint or stain to protect it from the elements, but after a few years, this barrier begins to fade and crack. If it is time for you to repaint your wooden fence, don't fly in blind. With a bit of planning, your spring fence painting will go swimmingly.
Don't do it alone
Depending on the size of your fenced-in area, you might have quite a large project to tackle. You should be able to get your entire fence painted or stained in one day, so don't try to do it alone. Your own home is full of helpers. Make it a family project and get your spouse, siblings, or parents to help. Or, turn it into a community project and ask your neighbors to stop by and help. With the promise of snacks and refreshments, you'll have no trouble wrangling up some helpers.
Plan carefully
Timing is key when you're looking to paint or stain your fence. It can't be too cold and it can't be too hot or the paint won't be able to do its job quite right. Choose a nice mild day to paint your fence. The most important part of planning is making sure that you choose a dry day. If your fence is wet or damp when you paint it, the paint won't stick as well, and all of that moisture will be sealed into the wood, causing rot, mold, and decay.
Do research
Fences can be stained or painted with much the same results. Each option has different advantages, and you'll have to make a decision based on what is best for you. Paints offer a wide variety of color options and are decidedly cheaper than stains. Unfortunately, they don't always look nice as they age. Paint chips. Stains sink into the wood so you'll see a gradual fade rather than clear signs of decay.
Hercules Fence has six offices ready to serve your fence needs. Whether you live as far north as Baltimore or south to Raleigh Market, Hercules has an office near you. Our experienced sales and installation staff can handle any fencing projects. The experts of Hercules Fence will work with you to turn your visions into a reality.
To have a professional, reputable fence contractor for your fence project, contact Hercules Fence of Washington D.C. today at (757)316-3600 or click here today to get started on your ornamental fencing design and other fence product installations.